Last Updated:

Get your blocky bunting ready and pin the tail on the Corgi for the Queen's Platinum Jubilee as Nvidia releases a quintessentially British Minecraft RTX adventure map.
With Minecraft itself having reigned over the gaming industry for over a decade, we're used to seeing incredible builds and massive, immersive maps. And, since ray-tracing was added to the Windows Edition in April 2020, we've seen even more spectacular worlds. Now, Nvidia is releasing a new map powered by RTX in celebration of Queen Elizabeth II becoming the first ever British monarch to reach 70 years on the throne. No matter where you are, you can join in Britain's celebratory weekend on June 2, 2022, and beyond.
What is the NVIDIA Platinum Jubilee RTX Minecraft Adventure map?
The incredible and vast Minecraft adventure map was built by a small team of just three designers led by specialist artist Ushio Tokura, taking over 650 hours and 45 million Minecraft blocks to create. Starting off on London's Pall Mall, partygoers can see the Trooping the Colors' guards and horses, before making their way to Buckingham Palace itself, and on to an epic, virtual street party.
Celebrate the aged monarch with champagne, cake and Corgis while the sun's rays are still beaming down on the streets of London. When night falls, the party's not over, as fireworks will light the sky in amazing realism thanks to RTX technology, "simulating the physical behaviour of light, enabling reflections, shadows and other natural lighting effects."
How to install and play the NVIDIA Platinum Jubilee Adventure map?
Simply, the Nvidia Platinum Jubilee street party adventure map is available to download on Planet Minecraft. However, it is only available for those on PC, and who have the Windows Edition installed.
If you have access to the Windows Edition on Minecraft, then you can go ahead and download the Nvidia Platinum Jubilee RTX Street Party Adventure here. Then, follow the instructions below carefully, as there is a known issue with the current version of the game and you'll require a few extra steps. If you are already comfortable installing a Windows Edition map download, jump to Step 4 for instructions specific to this map.
To download the map, click on the button shown in the image below on Planet Minecraft, at which point your browser will take you to an external page for download. You should be downloading a .mctemplate file.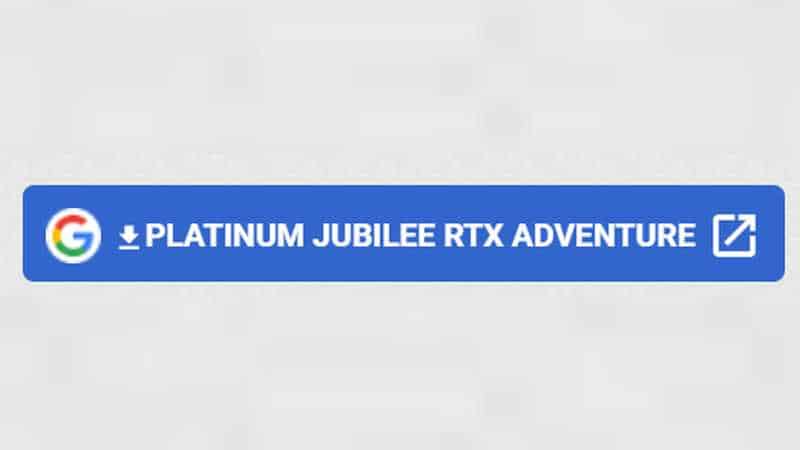 Once you have downloaded the .mctemplate file, find it in your file explorer and double click (as if to open it). This will force Minecraft Windows Edition to open up, and will automatically install the file, informing you of this in a message at the top of the screen.
Once installation has completed, click Play from the Main Menu. Then, click the Create New button to open your new world options.
Scroll down to Imported Templates and you should see the Platinum Jubilee RTX Adventure is now on the list.
From here on in, the steps are map specific, so this is the bit you need to read if you've launched other  Windows Edition maps before.
Click on the Jubilee map template in the above step, and you'll be taken to Game Settings. You'll need to Unlock Template World Options, or Unlock Settings at the top of the page.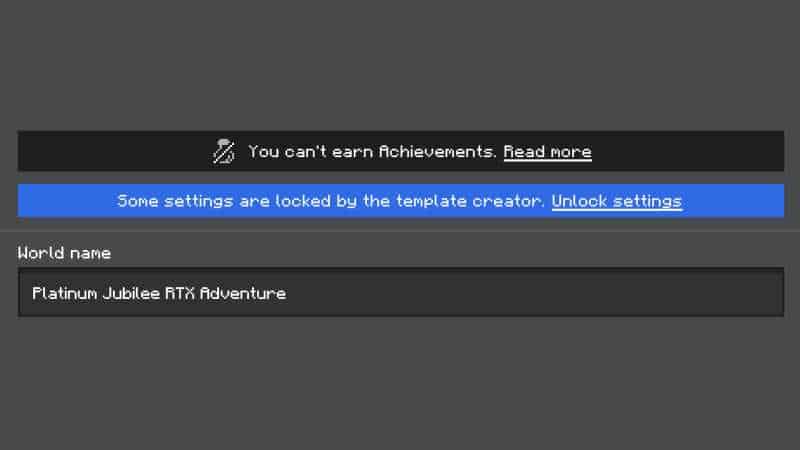 To fix the known issue with 1.18, you'll need to deactivate the Platinum Jubilee RTX Resource Pack. Select Resource Packs from the left hand menu, then click on the Platinum Jubilee RTX Resource Pack in the "Active" list, and hit Deactivate or Remove.
Then, you'll simply need to reactivate the same pack again. Navigate to the Available or My Packs list, locate the Platinum Jubilee RTX pack again, and click Activate.
Back in your Active list, you should now see the Platinum Jubilee RTX Pack, the Block Geo Fixer Pack and Global Resources, in that order.
You should be ready to go! Click create, and head into your world. As per the in-game instructions, check there is a Guard model behind you at spawn to ensure the settings are correct. If so, go on and party!
Do you need RTX to enjoy the new NVIDIA Minecraft map?
While there's no doubt the NVIDIA Minecraft Jubilee celebration map will be far superior with RTX enabled, and has been specifically crafted with RTX in mind, you can still join in the party without it. Just note that some things will not appear as they should. From our own experience, though, we were able to wander down Pall Mall and take in the views without RTX enabled. You'll still need to follow the steps above, though, in order to activate the correct resources and models.
More Minecraft guides
And head over to our Minecraft hub for even more news, guides and how-tos!