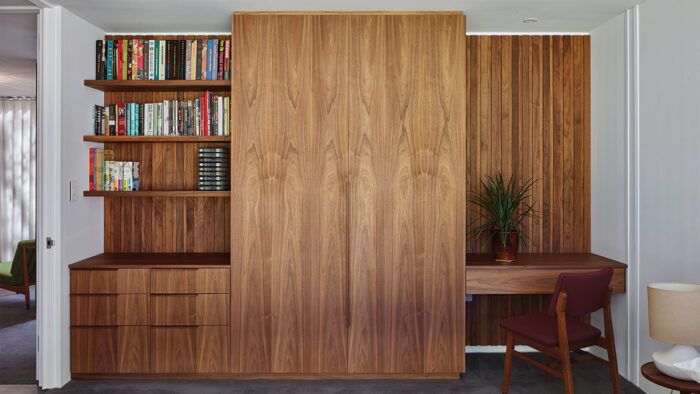 Synopsis: The array of sheet goods on the market can be mind-boggling. What's best to use for which job? Here, veterans of a professional cabinetry shop give a rundown of 11 different sheet-good products, from plywood to MDF and everything in between. With these products you can produce cabinets that range from traditional Shaker-inspired to sleek and modern.
---
Rowan Woodwork is a small team of design-and-build nerds nestled in the former New York State capital of Kingston. Much of what we do is cabinetry, such as kitchens, bathrooms and vanities, wardrobes, offices, and libraries. We specialize in modern European cabinets, which have opened our scope to many different types of plywood and other sheet goods.
The choices on the market are endless and constantly evolving and changing. But the ones we present here are our current go-to sheet goods for cabinetry work. With these 11 products we can pull off any look—from Shaker-inspired to sleek, minimalist, and modern—and any finish, from painted to natural to oiled and waxed. Every project is different, and availability isn't always consistent; knowing each product's strengths and weaknesses allows us to have options and tailor the materials to the specific project, with the goal being a gorgeous end result that will stand the test of time and use.
MDF: Flat, smooth, ad stable
Because it's an engineered material, MDF doesn't have grain patterns, which gives it a smooth finish ideal for paint or veneer, and a consistent, stable thickness. An MDF core panel with a pre-applied veneer is the absolute best product for cabinet doors and drawers. Completely void-free, it makes for a very flat surface, and the fibrous core won't move while it's being cut or after installation.
Name: MDF, MDF Core (veneered)

Uses: Best for cabinet doors/ drawers. Painted surfaces. Non-structural veneered surfaces.

Price*: MDF $65 for a 3/4-in. by 4-ft. by 8-ft. sheet, MDF Core (veneered) $100-$150 (depending on species of veneer) for a 3/4-in. by 4-ft. by 8-ft. sheet

Availability: Most specialty plywood dealers and some home centers

Sizes: Sheets come in widths of 4 ft. and 5 ft. with lengths up to 10 ft., and thickness ranging from 1/4 in. to 1 in.

Colors: Available in a variety of veneers.

Pros: Flat and very stable, easily veneered with any material, low cost.

Cons: Less structural than veneer core, susceptible to moisture. Formaldehydebased products are known to be harmful. Heavy.
Medex: A better MDF
Think of Medex as MDF's hippie younger brother. This product has all the great qualities of basic MDF and a few more. Made with recycled wood and no added formaldehyde resin, it is very environmentally friendly. With a list a mile long of its environmental achievements, it also manages to be more water-resistant than other fiberboards.
Names: Medex, Medex MDF, SDF (sustainable design fiberboard)

Uses: Best for painted cabinet faces, trim, or panels. It can be veneered with any material and makes a great, stable substrate.

Price*: $90 for a 3/4-in. by 4-ft. by 8-ft. sheet

Availability: Widely available at specialty plywood dealers.

Sizes: Sheets come 4 ft. and 5 ft. wide, with lengths up to 18 ft. and thickness ranging from 1/4 in. to 1-1/4 in.

Colors: Natural (brown), black, and gray

Pros: Consistent thickness, not much movement based on moisture, paints very well, no core so no need to edgeband if painting.

Cons: Less structural than veneer core, easily damaged, creates lots of very fine dust.
*Pricing on sheet goods can vary widely by distributor and can change daily.
From Fine Woodworking #295
To view the entire article, please click the View PDF button below.
More like this