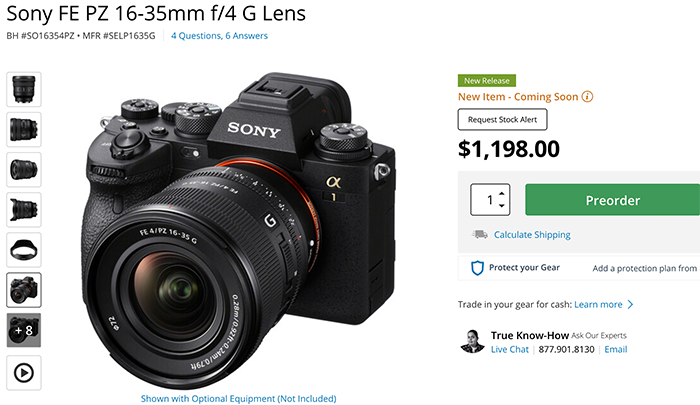 Preorders:
Sony 16-35mm in USA at BHphoto. Adorama. Amazon. FocusCamera.
in EU at Calumet DE. Fotokoch DE. WexUK. Calumet NL. Erhardt DE. Amazon Germany, Amazon UK, Amazon Italy, Amazon France, Amazon Spain, Amazon Netherlands.
Today we have three new reviews of the new Sony 16-35mm PZ lens:
Amateur Photographer writes:
It could be tempting to characterise the Sony FE PZ 16-35mm F4 G as being a lens for videographers, simply due to its power zoom design. But this would be to do it an injustice. Sony has overcome the usual irritation of clunky, imprecise zoom controls and delivered a lens that works just as well for shooting still images. I've been really impressed by its implementation of power zoom, and can imagine many more lenses being made this way in future.
At £1300, the FE PZ 16-35mm F4 G is, however, the most expensive of the compact FE-mount wideangle zooms currently available. Compared to its Zeiss-badged predecessor that sells for £1149, it's usefully lighter and boasts much-improved operability, but doesn't bring significantly better image quality. Meanwhile Tamron's 17-28mm F/2.8 Di III RXD benefits from a faster maximum aperture at the cost of a narrower zoom range, and sports excellent optics too. At £849, it represents fantastic value for money.
As a result, the FE PZ 16-35mm F4 G is still likely to find most favour with those who can exploit its power zoom during video recording, at least at its launch price. But with its compact size, consistent image quality, dust- and splash-proof design, and excellent operability, it's also an enticing option for Sony full-frame photographers looking to travel light.
Lenstip writes:
A small, shapely device that is sharp and properly sealed, doesn't weigh a lot, comes equipped with an ordinary filter thread, and an efficient autofocus system – it would be hard to demand more. If you add to that features that might make many filmmakers happy, in a form of a powerzoom and an ability to declick the aperture ring, a group of potential happy users might get even larger.
Dpreview writes:
The PZ 16-35mm F4 G is a usefully small, light and optically impressive zoom. With a list price of $1200, it costs around the same level as Canon's EF and Nikon's F-mount equivalents were priced, back in 2014 and 2010, respectively, and below the launch prices of Panasonic's L-mount version or Sony's own 16-35mm F4 ZA.
The optical performance and lightweight convenience give it some appeal to photographers, whether as a wide-angle zoom on full-frame or a 24-52mm F6 equivalent on APS-C. But the more you look at the lens, how it's designed and the features it offers, the more it appeals as a do-everything lens for videography. Or, at least, for those of us who aren't looking at $5,500 cine zooms.