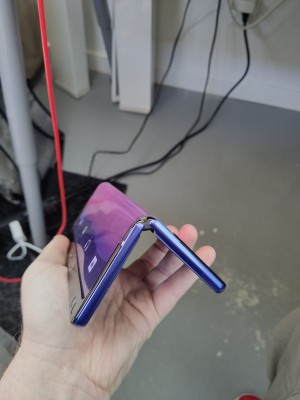 TCL unveiled a bunch of new phones and tablets over the past days at MWC 2022, but it also had time to show out a few foldable concept phones. We got close to the concepts though we couldn't use them ourselves. These devices will most likely not make it to consumers anytime soon, but TCL is working hard to bring its first commercially available foldable to the market at an affordable price.
TCL 360-degree Ultra Flex
The first TCL concept foldable we got to see is the 360-degree Ultra Flex. The big deal here is that the device can be closed with the screen on the inside or on the outside, just like some of the 2-in-1 laptops on the market thanks to the 360-degree hinge mechanism.
This gives you plenty of usability options as you can prop the device like a laptop or fully expand its display across the body for a tablet-like experience. TCL shared the screen is an 8-inch AMOLED panel with 2480 x 1860px resolution and supports stylus input.
It's certainly interesting to see this as a concept, but the durability aspect would probably deter TCL from actually releasing this exact form factor on the market for now. No other specs details were provided.
TCL Fold n Roll
Fold n Roll represents TCL's vision of a smartphone that has two ways to extend its display. It can fold just like the currently available crop of folding phones, but the left side of the display panel can also roll out horizontally to extend its real estate.
You get three modes with a 6.87-inch smartphone mode which has the folding bits of the screen tucked in. There's an 8.85-inch phablet mode where the screen is unfolded and a full-blown 10-inch tablet mode where the rollable bit is extended. TCL provided these details back in April last year when it announced the Fold n Roll and later showcased a working prototype in December.
What do you think? Do you find any of these form factors better than the existing ones on the market?