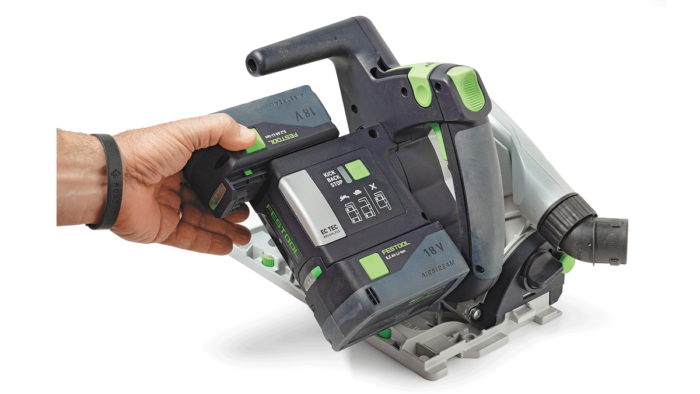 Once you own it, you can't imagine not having it. That's the kind of tool Festool's new TSC 55 KEB cordless track saw is. 
The saw is nearly identical to the existing TSC 55 REB, with two main upgrades. The first is a thinner blade that cuts quicker and extends battery life up to 40%, according to Festool. The second is the headline-grabber: an anti-kickback device that replaces the riving knife. When you rush a plunge cut with any track saw, it can jerk backward and cut into the track. Each time I forced the KEB to kick back, the blade stopped instantly, with no damage to the track or the workpiece. 
Going cordless means this track saw is a magic wand, letting you plunk down the track wherever you want, without a cord to snag and interrupt the cut. Fit doors. Break down sheets of plywood. Crosscut slabs up to 2-1⁄8 in. thick. The Festool track stays put without clamping, even when balanced on a short workpiece. Expect furniture-quality cuts thanks to the blade, the saw's snug, smooth sliding action, and the track's zero-clearance edge. With a vacuum attached, dust collection is at least 95% efficient; and it's very good with just the onboard bag.
With its two 18-volt batteries plugged in (you can also run it with just one, making it lighter), the KEB's power and endurance are amazing. It cut 248 ft. of plywood on a single charge, and sliced through 1-1⁄2-in.-thick white oak without hesitation. 
The KEB is compatible with older Festool tracks and batteries. You can buy just the bare tool, the tool with the batteries, or the tool with the batteries and a 55-in. track.
—Asa Christiana is a woodworker and freelance writer in Portland, Ore. 
Photos: Asa Christiana
More like this